Regenerative Medicine in Gold Canyon
Regenerative medicine is another integral service offered at
Triad Pain Group
, helping patients who need a boost in regenerating and repairing their tissues. Those of us young at heart, with degenerative knees, golfer's elbow, rotator cuff tears, fasciitis, tennis elbow, degeneration of the spine, muscle inflammation, and bursitis can greatly benefit from regenerative medicine practices. It can also be life-changing for athletes and weekend warriors who struggle with that same wear and tear on their bodies.
Regenerative medicine uses natural biologics to repair, restore, and regenerate damaged areas in degenerated tissues. This natural, medically approved product is far less invasive than surgery and has a much quicker recovery time.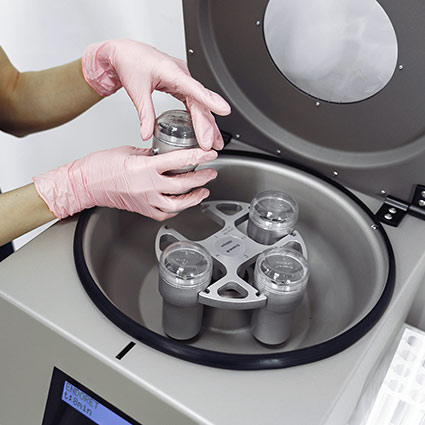 How the Process Works
Our team uses two well-known, researched natural biologics in regenerative medicine, including Platelet Rich Plasma (PRP), as well as Wharton's Jelly. Both are important alternatives to invasive surgery, with quick recovery times and low impact on the body.
PRP injections are created using your blood cells. A sample of your blood is withdrawn, separated in a centrifuge, and then the platelet-rich plasma is injected back into the injury site to promote healing, regenerate tissue, reduce swelling and prevent tissue breakdown in cases like arthritis. It's also successful in treating issues like tennis elbow and plantar fasciitis.
What is Wharton's Jelly?
Wharton's Jelly contains a multitude of proteins and growth factors, using donated, processed human cells and tissues. The mixture creates an extra-cellular matrix to recruit the body's stem cells to reconstruct and regenerate the injured tissue that is causing pain.
Wharton's Jelly is thought to regulate inflammation in the body and to be used for tissue supplementation.
Wharton's Jelly is collected aseptically and tested prior to processing. It is deemed eligible for transplantation by the Donors Suitability Standards established by the AATB and FDA. The products are regulated under 21 CFR Part 1271 and Section 361 of the Public Health and Service Act. Our proprietary sterilization process ensures product sterility without terminal irradiation, maintaining the original biological makeup of Wharton's Jelly.
Call Us Today to Learn More
Chronic pain is debilitating and forces so many of us to sit on the sidelines of life. Nearly everyone can benefit from regenerative medicine. Call us today to see how it can help you, (480) 413-0586.
CONTACT US

Regenerative Medicine Gold Canyon, Chandler, Mesa, Gilbert AZ | (480) 413-0586