DME in Gold Canyon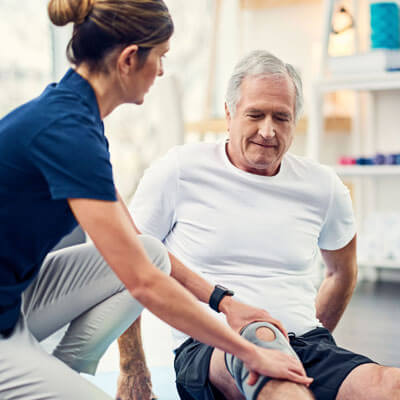 Whether you're an avid pickleball player who can benefit from extra knee support or you're in need of a back brace to relieve pain, we have you covered with durable medical equipment (DME), available here at Triad Pain Group.
DME refers to various bracing and assistance devices that individuals can bring home to support their self-treatment and recovery. We primarily focus on providing braces for the back, knee, ankle, wrist, foot boots, and other protective devices.
Back Braces
Supporting Your Spine and Easing Pain
Back braces are beneficial for anyone experiencing back pain or dealing with an episode of discomfort. These braces provide support to the spine, alleviating pressure on the disks and offering pain relief. Whether you're an active individual seeking support during physical activities or someone with a history of back pain needing assistance with daily tasks, a back brace can give you the necessary support and relief to function comfortably.
Knee Braces
Enhancing Mobility and Recovery
For individuals with knee conditions such as osteoarthritis or meniscus tears, a specific type of knee brace can be highly beneficial. This brace unloads or offloads the affected side of the knee, alleviating pain and allowing individuals to move more freely. Whether you're recovering from an ACL or MCL injury or require daily support for a knee replacement, our knee braces provide the necessary stability, pain relief, and protection.
Other Braces and Supports
In addition to back and knee braces, we offer various braces and supports for various conditions. For wrist and carpal tunnel pain, we have wrist splints that provide relief and support during daily activities. Ankle braces and post-foot fracture boots aid in stabilizing the ankle and promoting healing. We also provide neck braces for posture correction and relief from neck pain.
Medicare Coverage
We understand that cost can be a concern for many patients. Fortunately, Medicare covers most of the durable medical equipment we offer, making it affordable and accessible for our patients. With minimal copayments and low deductibles, obtaining a high-quality, custom-fitted brace through your insurance is hassle-free.
Contact Us to Learn More
Our team will help you find the right DME that suits your needs and supports your journey towards better health and improved mobility. Contact us today to learn more.

Durable Medical Equipment (DME) | (480) 413-0586